Looking for logistics solutions for your upcoming wedding event? Well, look no further than HiWay Cabs: The Wedding Logistics experts in India. When it comes to planning a wedding, there's no room for error. Every detail, from the venue to the flowers, needs to be perfect. One crucial aspect of a flawless wedding celebration is logistics management. HiWay Cabs takes pride in being your trusted partner in ensuring seamless wedding logistics, not just in Chandigarh, Gurgaon, and Amritsar but across India and even abroad. We don't just provide a self-owned fleet; we offer comprehensive logistics solutions that encompass vendor management, fleet management, and entire event logistics management. Let us introduce you to the driving force behind our success, Mr. Pankush Miglani, a logistics expert with over a decade of experience.
Our Pan India Presence:
HiWay Cabs understands that weddings are not just regional events; they are grand celebrations that often bring together people from across the country and even from abroad. To cater to the diverse needs of our clients, we have expanded our services beyond Chandigarh, Gurgaon, and Amritsar. We now offer our top-notch wedding logistics management services across India. Whether your wedding is in the bustling streets of Mumbai, the serene backwaters of Kerala, or the historical backdrop of Jaipur, we have you covered.
Global Reach:
In today's world, weddings are no longer confined to a single geographical location. Couples often choose exotic international destinations to exchange their vows. Understanding this trend, HiWay Cabs has gone the extra mile by extending our logistics management services beyond the Indian borders. If you dream of a destination wedding in Thailand or Bali, a romantic ceremony in Tuscany, or a cultural extravaganza in Egypt, we have the logistical expertise to make it happen seamlessly.
Comprehensive Logistics Solutions:
What sets HiWay Cabs apart is our commitment to providing end-to-end wedding logistics solutions. We go beyond just offering a fleet of vehicles; we take care of everything to ensure your wedding day runs without a hitch.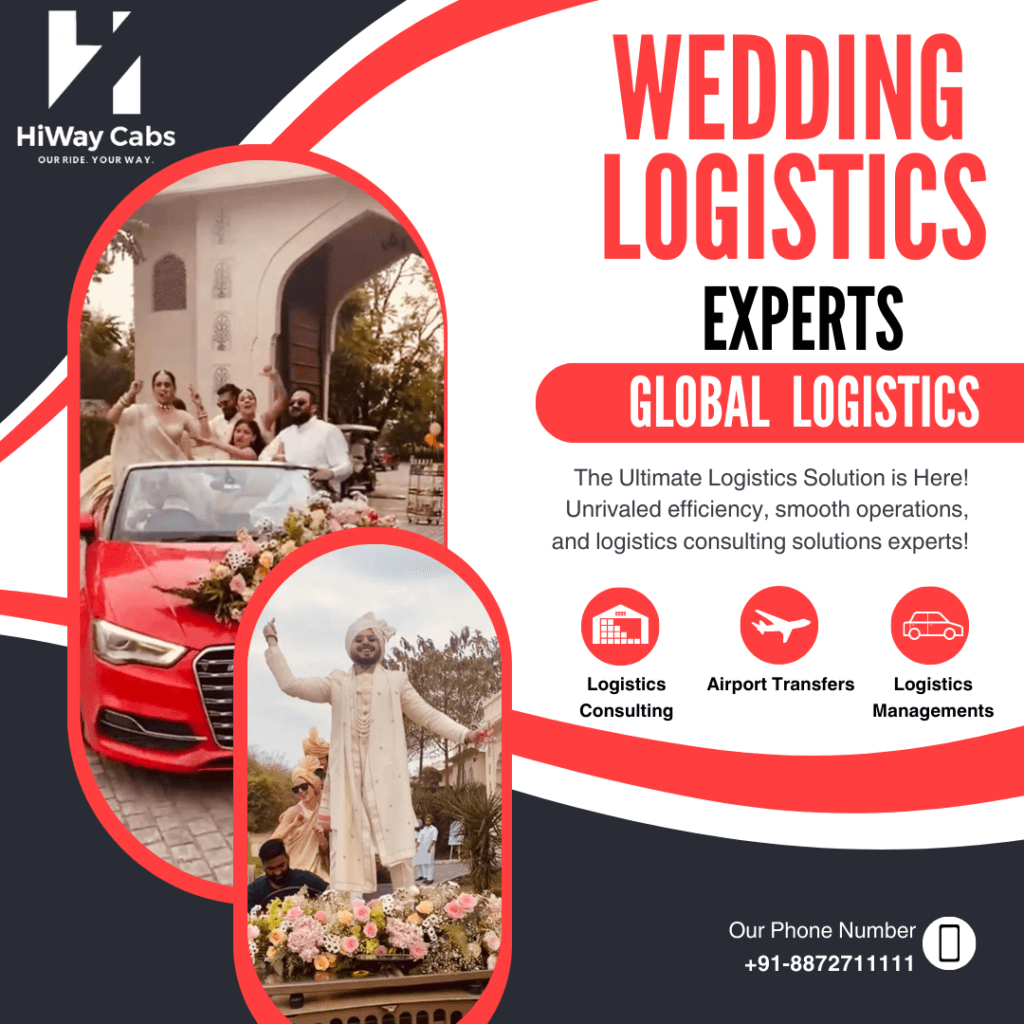 Vendor Management

:

We understand the importance of reliable and efficient vendors. Our team works tirelessly to vet and manage a network of trusted vendors across the globe who can provide everything from SUVs to luxury vehicles to coaches, leaving you free to enjoy your special day.

Fleet Management:

Our self-owned fleet of luxurious and well-maintained vehicles ensures that your guests arrive in style and comfort. From elegant sedans to spacious buses, we have a vehicle for your every need.

Event Logistics Management:

Coordinating the logistics of a wedding can be a daunting task. Our team of experts takes care of all the logistics, from transportation and shuttling between venues and guest coordination. We leave no stone unturned to ensure your wedding day is stress-free.

Logistics Consultancy

:

HiWay Cabs now offers logistics consultancy services to help you plan and execute your wedding logistics with precision. Our team of experts can advise you on the best logistics practices, cost-saving strategies, and innovative solutions to make your wedding logistics even more efficient.
Meet Mr. Pankush Miglani - Our Logistics Maestro:
At the heart of HiWay Cabs' success in the wedding logistics industry is Mr. Pankush Miglani, a veteran with over a decade of experience in the field. His expertise and dedication have been instrumental in making HiWay Cabs the go-to choice for couples and families planning weddings. Under his leadership, our logistics team ensures every detail is meticulously planned and executed. He makes sure that you as well as your guests can just sit back, relax and enjoy every facet of your wedding celebration without having to worry about the hassle of logistics management.