Why Choose Toyota HiAce for Your Next Travel?
The decision to choose the Toyota HiAce Commuter Minivan for your upcoming travel endeavors is a choice rooted in a multitude of compelling reasons. In this section, we will delve deeper into why the HiAce stands out as the ultimate vehicle for your next journey. The 8-Seater Toyota HiAce Commuter Minivan, now available for rent in Chandigarh and Delhi with HiWay Cabs, epitomizes luxury travel, blending elegance, comfort, and functionality seamlessly. By selecting HiWay Cabs, you aren't just booking a ride; you're unlocking a luxurious travel experience that will redefine your exploration of and originating from the vibrant city of Chandigarh and the National capital- Delhi. Discover the pinnacle of opulence on wheels with HiWay Cabs and embark on a journey that transcends conventional expectations.
Whether it's a group adventure, a personal excursion, a corporate outing, or a special occasion like a wedding, the Toyota HiAce Commuter Minivan is the perfect choice to make every journey extraordinary.
Here's why Toyota HiAce is the best luxury commuter van in Delhi
Unmatched Comfort:

Traveling in the Toyota HiAce is synonymous with experiencing the epitome of comfort. The minivan's spacious and ergonomic seating ensures that every passenger enjoys a relaxed and pleasurable ride, even on long journeys.

Versatility Redefined:

Whether you're planning a family vacation, a corporate outing, or a group excursion, the HiAce offers unmatched versatility. With its generous seating capacity and ample cargo space, it can effortlessly adapt to your travel needs.

Safety First:

Toyota's commitment to safety shines through in the HiAce Commuter Minivan. It comes equipped with a comprehensive suite of advanced safety features, including airbags, anti-lock brakes, and electronic stability control, providing peace of mind to both passengers and drivers.

Exceptional Fuel Efficiency:

In a world increasingly conscious of environmental impact, the HiAce is designed with fuel efficiency in mind. Its aerodynamic design, combined with Toyota's engineering prowess, ensures that your journeys are not only comfortable but also eco-friendly.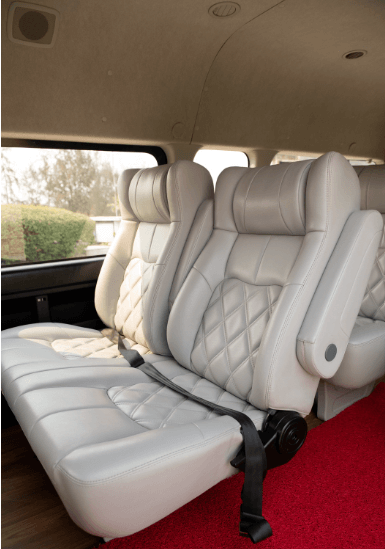 5. Cutting-Edge Technology: The HiAce doesn't compromise on technology. Its state-of-the-art infotainment system keeps passengers entertained and connected throughout the trip, making it a hub of convenience and entertainment.
6. Aesthetic Excellence: Beyond its practicality, the HiAce is a testament to aesthetic excellence. Its sleek design, striking alloy wheels, and panoramic windows turn heads wherever you go, ensuring that you travel in style.
7. Reliability Beyond Compare: Toyota is renowned for its legendary reliability, and the HiAce is no exception. When you choose this minivan, you're selecting a vehicle that will not only meet but exceed your expectations in terms of dependability and performance.
8. The HiWay Cabs Advantage: Booking the Toyota HiAce with HiWay Cabs elevates your travel experience to another level. With our unwavering commitment to quality, professionalism, and customer satisfaction, you can rest assured that every aspect of your journey will be meticulously taken care of.
In conclusion, the Toyota HiAce Commuter Minivan isn't just a mode of transportation; it's a lifestyle choice. It's a choice for those who seek comfort, versatility, safety, and style in their travels. When you select the HiAce for your next journey, you're making a statement that luxury and practicality can coexist harmoniously. Discover the Toyota HiAce with HiWay Cabs and embark on a journey that transcends the ordinary, setting new standards for your travel experiences.