Book Char Dham Yatra from Chandigarh With HiWay Cabs
Are you searching for an ideal travel itinerary for Char Dham Yatra from Chandigarh? Your search for the best Char Dham Yatra tour packages from Chandigarh completes with HiWay Cabs. Call @+91-8872711111 and have an amazing experience of Char Dham Yatra with HiWay Cabs, the best taxi service in Chandigarh, Mohali and Panchkula.
There is no lack of pilgrimage spots for the people of Chandigarh and the surrounding areas because the city is close to one of India's most prominent spiritual destinations, Haridwar. When there is a heavenly calling, Chandigarh devotees never miss the opportunity to prepare for a Chardham Yatra from Chandigarh. Additionally, the excellent road connectivity between Chandigarh and Uttarakhand makes it possible for pilgrims to go on an unparalleled spiritual journey to the Garhwal Himalayas.
The journey to Char Dham is a blessing for every devotee seeking self-discovery and spiritual fulfilment. The Chardham Yatra in 2023 has the potential to broaden your perspective while filling your mind with positive energy. Char Dham in Uttarakhand is one of the most sacred pilgrimages in Hinduism, a trek that every Hindu wishes to take at least once in his or her lifetime. This teerth yatra begins in April/May and continues for only six months every year.
The term "Char Dham" refers to the four sacred shrines as a whole. The Badrinath shrine belongs to Lord Vishnu, the Kedarnath to Lord Shiva, the Yamunotri temple belongs to the goddess Yamuna and the Gangotri to the goddess Ganga. Every year, millions of devotees flock to revered temples in search of the fulfilment of their desires. What more could you want from your Chardham vacation package from Chandigarh than jagged landscapes, opulent animals, tranquil temples, charming Himalayan valleys, and some lip-smacking delectable food? Along with its spiritual and religious significance, adventurers and nature lovers can enjoy an array of activities and soak in the grandeur of its fresh airiness.
A spiritual journey to Char Dham, undertaken by thousands of devotees from all over the world in pursuit of God's blessings, is an excellent fuel to recharge your mind, body and soul.
Why Choose HiWay Cabs for Char Dham Yatra Tour from Chandigarh?
Our experts have thoroughly crafted an ideal getaway experience in the Indian Himalayas, especially for you. This Chandigarh to Char Dham yatra package has been meticulously planned to help devotees have an organised, painless, and comfortable yatra. The journey starting from Chandigarh takes you to Haridwar, Barkot, Uttarkashi, Yamunotri, Gangotri, Badrinath, Kedarnath, and all the neighbouring holy destinations.
You can select from extensive Chardham Yatra Packages from Chandigarh put together by our team of professionals, which are available at reasonable prices. HiWay Cabs will meet all of your requirements and preferences for your Char Dham tour from Chandigarh. We guarantee that your spiritual journey to the lap of mother nature will be one to remember for the rest of your life.
We have helped narrow down the details and provided you with some helpful details to help you on your journey. Read on to make the most of your getaway.
Char Dham Opening & Closing Dates 2023
| Temple | Opening Date | Closing Date (Tentative) |
| --- | --- | --- |
| Kedarnath | 25 April 2023 | 14 November 2023 |
| Badrinath | 27 April 2023 | 21 November 2023 |
| Gangotri | 22 April 2023 | 13 November 2023 |
| Yamunotri | 22 April 2023 | 14 November 2023 |
Itinerary for Char Dham Yatra Tour Package from Chandigarh
Commence your Char Dham yatra road trip from Chandigarh to Haridwar. Get your registration for the Yatra done before starting your journey.
When you arrive at Haridwar, check in to your accommodation and unwind. In the later part of the day, go to Har- Ki- Pauri to witness the spectacular Aarti on the bank of the holy river Ganga. Afterwards, head to the hotel for dinner and have a much-needed good night's sleep.
You will be travelling to Barkot / Jankichatti from Haridwar in the morning. Barkot is a lovely getaway in the foothills of Yamunotri. You can stop by the renowned Kempty Falls on your route via Mussoorie. When you arrive at Barkot, check in to your hotel/lodging.
The remaining time of the day is left to wind down and prepare for the Pahad (hiII) Yatra of Yamunotri the following day. Enjoy dinner and an overnight stay at Barkot.
Day 3: Barkot– Yamunotri – Barkot
Have breakfast and depart for Hanumanchatti (10 km) and Janki Chatti (5 km) on the third day of darshan at Yamunotri Dham. The First Pahad Char Dham Yatra of Yamunotri (6 Km trek) will start here. For your trek, you have the choice of hiring a palki, ponies, or a horse (At your own cost). The path takes you through an enchanting green valley brimming with conifers, rhododendrons, cactus, and a variety of Himalayan greenery.
The outermost shrine of the Char Dhams, Yamunotri (height 3,291 m), is nestled in the Bandarpunch range. (6,361 m). Yamunotri is the twin sister of Yama, the Lord of Death, and is the source of the Yamuna River. The river's actual origin is Champasar Glacier, located 1 km ahead of the shrine at an elevation of 4,321 metres. When you arrive at Yamunotri in the afternoon, take a dip in the holy water of the Yamuna River and do Pooja.
Return to Barkot through the same roadway, and check in at the hotel. Have dinner and an overnight stay in a place of lodging in Barkot.
After the morning meal, check out of the accommodation in Barkot and set off for Uttarkashi. Check-in at the hotel upon arrival. Uttarkashi, located on the banks of the Bhagirathi River, is well-known for its ancient attractions, shrines, and ashrams. Visit the renowned Vishwanath Temple in the evening. Stay at Uttarkashi for dinner and have a good night's sleep.
Day 5: Uttarkashi – Gangotri – Uttarkashi
After breakfast at the hotel, drive to Gangotri Dham. Gangotri stands at 3048 metres in the majestically beautiful Garhwal Himalayas. When you arrive at Gangotri, take a dip in the holy waters of the holy river, which is known as the Bhagirathi at its point of origin. Pay a visit to the Gangotri Temple. The 18th-century Goddess Ganga temple is placed alongside a sacred stone where King Bhagirath prayed to Lord Shiva. At this exact spot, Ganga has been believed to have established a connection with the earth's surface. The temple has a magnificent 20-foot-high white granite structure. After completing Pooja, return to Uttarkashi in the late afternoon. Have a dinner and an overnight stay at Uttarkashi.
After having your breakfast early in the morning, depart for your next location, Guptkashi. When you get there, check-in at the hotel. Guptkashi is approximately 47 kilometres away from the Kedarnath temple. The town is of great spiritual significance because it is home to prominent historical temples such as Vishwanath Temple and Ardhnarishwar Temple.
Get a medical checkup for your trip to Kedarnath the next day. Then, have dinner and spend the night in the hotel/camp.
Day 7: Guptkashi – Sonprayag – Kedarnath
Check out from the hotel after breakfast and proceed to Sonprayag (30 km). You will begin your 20-kilometre journey to Kedarnath Dham from Sonprayag. For your trek, you can hire a Doli, horse or pony (At your own cost).
Mandakini, one of Ganga's main tributaries, emerges near Kedarnath and passes through Gaurikund. Chants of "Jai Bholenath" reverberate through the slopes. The mist embraces the mountains, and you will catch a glimpse of the valley's stunning grandeur, which will enchant you. When you get there, check in to any of the government camps or lodges in Kedarnath and unwind. Enjoy the supper and overnight stay at the Kedarnath Camp/Lodging.
Day 8: Kedarnath – Sonprayag – Guptkashi/Rudraprayag
The darshan of Kedarnath Ji is scheduled to take place on the eighth day of your Char Dham Yatra. Wake up early morning, take a bath, and get to the temple by 4:45 a.m. for the 'Abhishek' to Lord Shiva at Kedarnath. Everyone has permission to enter Garbha Griha and worship the idol. You depart the premises after Kedarnath darshan and puja and return to your booked accommodation.
Later, you'll begin the 20-kilometre return stroll from Kedarnath to Sonprayag. You will be picked at Sonprayag Car Parking and driven to your hotel at (Guptkashi/Rudraprayag). Dinner and an overnight stay in Guptkashi/Rudraprayag.
Day 9: Kedarnath – Sonprayag – Guptkashi/Rudraprayag
Early in the morning, after breakfast, you check out of the hotel and head towards your next destination Badrinath Dham through Joshimath. Badrinath is a sacred pilgrim temple for Hindus and one of the Dhams among Char Dham. The Badrinath temple, situated at an elevation of 3133 meters, is dedicated to Lord Vishnu.
You will reach Badrinath after travelling via the picturesque beautiful Ghat road. Check-in at the hotel upon arrival. You're all ready to go to Badrinath Temple for darshan in the late afternoon after some rest and refreshments. But first, you must visit Tapt Kund (Hot Spring), take a bath, and then proceed to the temple. Shri Badrinath Ji temple, dedicated to Lord Vishnu, is 15 metres tall and is designed in the shape of a cone with a little dome of a golden bull and spire. Later, after the darshan, return to the hotel and have dinner and an overnight stay at the booked hotel.
Day 10: Badrinath – Joshimath – Rudraprayag
You are welcome to go back to Badrinath Temple for Darshan this morning. Return to the hotel for breakfast later. Then, proceed to Badrinath for some local sightseeing. Visit the main attractions such as Mana Village, Ganesh Gufa, Vyas Gufa, and Mata Murti temple.
In the afternoon, check out of the hotel and drive to Rudraprayag via Joshimath. You can also visit Karnaprayag en route. Rudra Prayag is of significant religious significance. The town also has outstanding scenery and tranquilly. When you arrive at Rudraprayag, check in at your hotel. You can spend the rest of the day relaxing or exploring Rudraprayag's pristine splendour. Have dinner and spend the night at the hotel.
Day 11: Rudraprayag – Rishikesh
You will continue to travel downwards to Rishikesh, a spiritual town, on the 11th day of your Chardham yatra with HiWay Cabs, the best taxi service in Chandigarh, Panchkula and Mohali. The beautiful town of Rishikesh is also known as the "Yoga Capital of the World." This town is located in the Himalayan foothills, at the confluence of the rivers Ganga and Chandrabhaga. This pilgrimage town, nestled in the Dehradun's vicinity, is famous for its adventure activities and spiritual centres.
When you arrive in Rishikesh, complete the check-in procedures at your booked hotel and take a short break. Later, pay a visit to Ram Jhula and Laxman Jhula. Attend the Ganga Aarti, an auspicious and sacred ritual performed at Rishikesh's Ghats, in the evening. Enjoy an enlightening experience whilst learning about the culture and traditions. After that, return to the hotel and spend the night in Rishikesh.
Day 12: Rishikesh/Haridwar – Chandigarh
Today is the twelfth and last day of the Char Dham Tour Package From Chandigarh. Enjoy the morning breakfast at the hotel before checking out. Then, return to Chandigarh via Haridwar, where you will be provided with a transfer to the Railway Station / Airport or to the place of your choice for your onward journey.
Note: This is an ideal package for the Char Dham Tour from Chandigarh but you can make the desired changes in the itinerary as per your requirements.
Call @+91-8872711111 and book your Char Dham Yatra 2023 with HiWay Cabs to have an unforgettable experience.
FAQs About Char Dham Yatra from Chandigarh
Can I modify the itinerary for the Char Dham Yatra?
Yes, you can adjust the Char Dham Package from Chandigarh to meet your specific requirements.
What are the scheduled opening and closing dates for Char Dham?
Opening and closing dates depends as per hindi calender. But for the reference, we have provided the details above.
Is any kind of kind documentation or permit required for Char Dham Yatra?
Pilgrims must register for yatra before embarking on their journey.
To register visit https://registrationandtouristcare.uk.gov.in/
What are the modes of registration for the Char Dham Yatra?
1) Via this Web Portal https://registrationandtouristcare.uk.gov.in/
2) With Mobile Application – Tourist Care Uttarakhand (Download Android & iOS App )
3) With WhatsApp Mobile Number: +91 8394833833
Type: "Yatra" to initiate the registration process on WhatsApp.
Is there any fees required to register for Char Dham Yatra?
There is no fee involved in the tourist registration process and you register for free at the above mentioned portal.
What are the modes of verification?
Physical verification takes place when you visit the shrine via scanning the "QR Code" on the mobile app or screening the "Yatra Registration Letter". Also, don't forget to carry valid personal ID proof during the Char Dham Yatra.
How to reach Char Dham from Chandigarh?
The city of Chandigarh has excellent road connections with Uttarakhand. There are several buses from Chandigarh to Rishikesh, Haridwar, Dehradun, and Srinagar Garhwal. If you are travelling by road, you can travel with HiWay Cabs to have an ultimate experience.
What is the best mode of travelling from Chandigarh to Uttarakhand?
You can travel by Roadways and other private buses to reach Uttarakhand easily. But, if you want to enjoy a premium travelling experience then you should travel with HiWay Cabs.
Why book Char Dham taxi service with HiWay Cabs?
We offer you highly reliable, comfortable, and affordable Char Dham car rental services for your holy journey. Punctuality and safety are the things that we take very seriously. You can avail Char Dham Yatra package which includes the state entry taxes, tolls, driver allowances, driver night charges, and parking charges. All of our cabs are equipped with FAST TAG. Our highly- trained chauffeurs are dedicated to making your journey safe and enjoyable in every way possible. They religiously comply with all the hygienic and safety measures (masks, sanitizers, and disinfectants) to ensure that you have a safe and comfortable journey when you do Delhi to Char Dham Car booking with us.
What is the Char Dham Yatra Package by taxi from Chandigarh?
Char Dham taxi fare and package depend on your choice and preference of the car (Sedan, Hatchback, etc). Please get in touch with our team for more details about Char Dham Yatra tour packages.
What lodging options are available during the Yatra?
There are a variety of accommodation alternatives available to devotees during the Char Dham Yatra, ranging from cost-effective to three and four-star hotels.
What is the distance from Chandigarh to Haridwar and Dehradun?
The distance between Chandigarh and Haridwar is approximately 210 km and the distance between Chandigarh and Dehradun is around 171 kilometres.
Is there any Char Dham Yatra Package from Delhi?
Yes, HiWay Cabs offers a Char Dham Yatra Tour Package from Delhi.
What are the best places to visit during Char Dham Yatra?
Char Dham route is well connected by roads. There are lots of great temples, ashrams, wildlife sanctuaries, etc to explore on your journey to Char Dham. It is recommended to include Mansa Devi temple, Neelkanth Mahadev Temple, Trimbakeshwar Temple, Triveni Ghat, etc in Haridwar and Rishikesh in your checklist when you take Char Dham Yatra tour car rental packages. Don't forget to attend the sacred Ganga Aarthi on the ghats of Har ki Pauri in the evening.
Some of the major attractions to visit Char Dham by Cab are as follows-
1. Kedarnath –
Vasuki Tal
Gandhi Sarovar
2. Badrinath –
Vasudhara Falls
Bheem Pul
Valley of Flowers
Auli
3. Yamunotri –
Surya Kund
Divya Shilla
Saptrishi Kund
4. Gangotri –
● Jalmagna Shivling
How can I reserve a cab for the Chardham Yatra? Is there an initial payment required, and if so, what is the guarantee?
You can call HiWay Cabs @+91-8872711111 to rent a taxi for Char Dham Yatra. In case of any inital payment recieved, we give you the complete surety of booking as HiWay Cab is the most trusted taxi service provider in Delhi-NCR with an outstanding experience of delivering the best taxi rental services.
How much does the Char Dham Yatra cost?
The overall expenses can be determined by the cost of accommodation and the mode of transportation that you choose. Depending on your requirements, you can plan your trip effectively with HiWay Cabs.
How many days are required for Badrinath and Kedarnath Ji?
If you start from Delhi or Haridwar, it will take you approximately 4-6 days to thoroughly explore Badrinath and Kedarnath Dham as well as the nearby places; otherwise, it will depend on where you start.
How many days are enough to explore Gangotri and Yamunotri Dham?
If travelling from Haridwar, three days are sufficient; if commuting from Delhi, at least 4-6 days are needed to travel.
What is the best time of year for visiting Badrinath and Kedarnath Dham?
You can schedule to travel in the months of May and June, or if you want to beat the heat, you can also visit in the months of September and October when the climate is pleasantly cold.
Is it safe for us to drive our own car to Char Dham?
If you are familiar with the routes and have excellent driving abilities on difficult terrain, you may drive your own car; otherwise, you should hire a taxi from HiWay Cabs, the best cab service for the Char Dham tour and packages.
How many days must be spent to complete the Chardham Yatra?
Although it takes approximately ten days to complete the Chardham circuit, it is up to the pilgrims how much time they would like to spend.
Can people of any age group travel for the Chardham Yatra?
Yes, undoubtedly, but elderly individuals and newborns should get a medical checkup beforehand; if they are fit to go, then only they should be taken for the trip.
Is Char Dham Yatra tough to complete?
No, Char Dham Yatra is not complicated for those who have faith in the divine power. Even if someone is not physically strong, devoted believers will never experience exhaustion or any other ailment. But, if you have any serious medical issues, then it is advised to take medical advice before planning the trip.
One of the most convenient methods of reaching Chota Char Dham in the Garhwal Himalayas is by road. When you travel by road with your family or friends, HiWay Cabs delivers the best Char Dham Taxi Service that you will undoubtedly want to experience in the course of your journey to Char Dham.
Our travel experts have carefully curated this Chandigarh to Char Dham Yatra tour to ensure devotees experience an organized, painless, enjoyable and comfortable yatra. Beginning from Chandigarh, the travel itinerary takes you to Badrinath, Kedarnath, Barkot, Yamunotri, Uttarkashi, Gangotri, Haridwar and all the surrounding religious sites. Devotees can even take a holy bath at the temple's thermal springs.
If you want to book a taxi from Chandigarh, Mohali or Panchkula for Char Dham Yatra, don't wait for any further and contact us right away!
Please contact our team at +91-8872711111, if you have any questions about Char Dham Tour Package from Chandigarh. For bookings or other inquiries, you may also contact us on WhatsApp.
Four Temples in the Char Dham Yatra Package from Chandigarh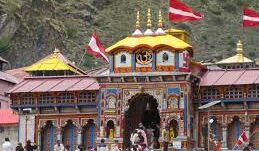 Badrinath
Kedarnath
Gangotri
Yamunotri